King 5 Evening
Author: Kim Holcomb
Published: 6:00 PM PDT March 15, 2022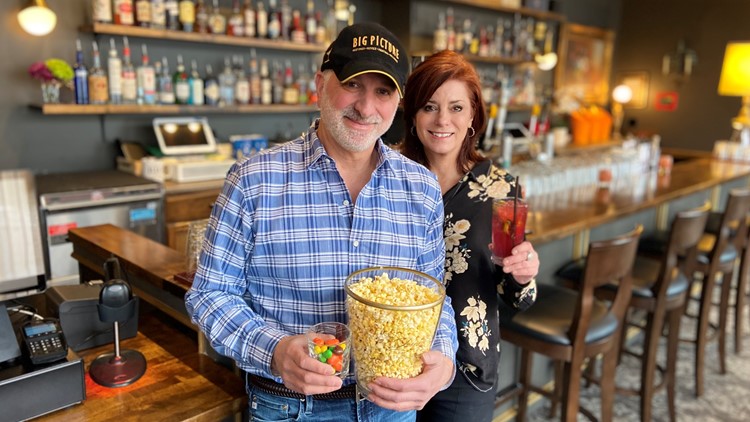 The theater was a longtime fixture in Seattle's Belltown neighborhood before closing at the start of the pandemic.
ISSAQUAH, Wash. — Big Picture, a beloved and longtime movie theater with bar service, is back.
Doors opened in the theater's new Issaquah location at the beginning of March.
Originally, Big Picture operated in Seattle's Belltown neighborhood and kicked off the idea of enjoying a cocktail with a film. It was Washington State's first movie theater with a full bar and seat service.
"This theater is like you're going to your friend's home, or you're going to a hotel lobby bar," said owner Mark Stern, who runs the theater with wife Katie. "There's no way that you could recognize this is a movie theater. (It's like) you're at a friend's house and they just happen to have also a kick-butt theater, great sound system — that's the concept. We wanted to be different than the traditional chain movie theaters."
Over two decades, the theater welcomed audiences that included celebrities like Jerry Seinfeld, Jeff Bridges, and Dave Matthews. But shortly after the pandemic hit, they lost their lease and were given five weeks to vacate.
The Sterns suddenly faced moving expenses and zero income — but they persevered and found a new space in Issaquah's historic downtown.
They remodeled a former brewery to create a new twist on their old space. The front of the space is a spacious bar and lounge area, which guests can enjoy even without a movie ticket.
The theater is intimate but comfortable and wide, featuring one screen and 33 seats. Unlike most theaters, the front row is a popular place to sit - it includes ottomans and a love seat.
Guests can also enjoy an array of cocktails with movie-inspired names, a smash burger, or popcorn with truffle butter and parmesan.
Tickets can be purchased in advance online, and the theater is also available to rent for private parties. "The Batman" is currently showing nightly.
"We're having fun, we love what we do," Stern said. "We love movie theaters."
Big Picture is located at 35 W. Sunset Way in Issaquah.
KING 5's Evening celebrates the Northwest. Contact us: Facebook, Twitter, Instagram, Email.
https://www.king5.com/article/entertainment/television/programs/evening/family-owned-movie-theater-big-picture-reopens-in-issaquah/281-fd66ab5d-8af1-45c8-9baf-904fd0350713
The Seattle Times
Feb. 22, 2022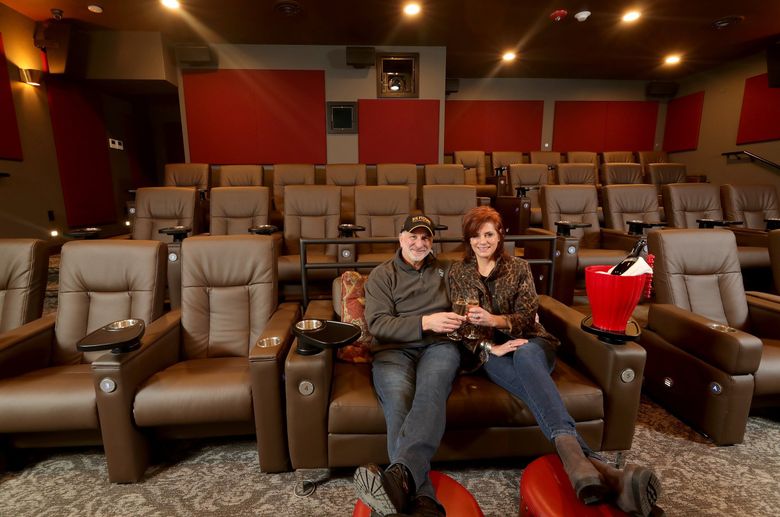 By Moira Macdonald
Seattle Times arts critic
What might post-pandemic moviegoing look like? "Like your friend's house," said Mark Stern. That is, if your friend had a 15-foot-wide screen.
Stern, who, with his wife Katie, owned and operated the boutique movie house The Big Picture in Belltown for more than 20 years, believes in the future of movie theaters. "That social element," he said, "it's never going to go away." While the single-screen Big Picture couldn't compete with chain multiplexes, it offered a very different experience, something Stern believes customers want: a small, comfortable theater; a full bar; an elegant and intimate evening out.
And though they abruptly lost their lease at the Belltown location back in 2020, shortly after closing for the pandemic, the Sterns are ready to pursue their dream again. About a year ago, they spotted a "for rent" sign in a former pub in Issaquah's Old Town, across the street from the public library. After months of renovation and planning — and figuring out how to squeeze a cinema into a restaurant layout — The Big Picture is back, and will open with "The Batman" in March. As of this writing, an exact opening date has not been set.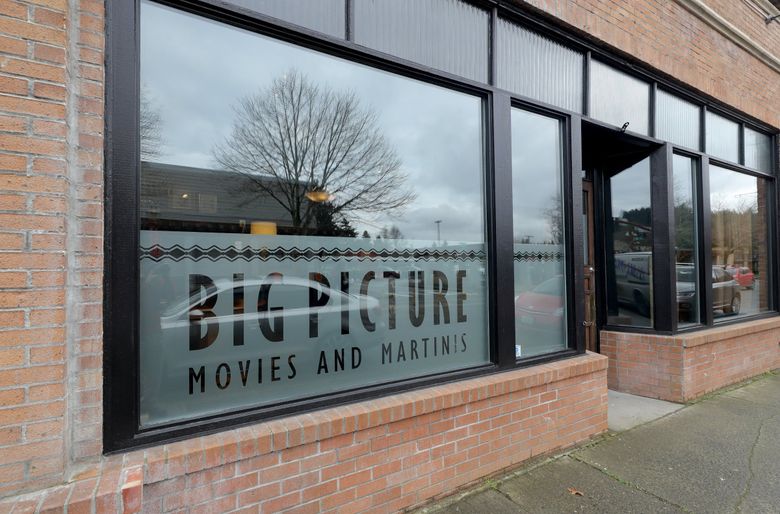 It's a business model that's very different from Issaquah's only other cinema, the Regal Issaquah Highlands IMAX & RPX, a vast 12-screen multiplex a couple of miles away. From the sidewalk, the new Big Picture looks more like a cozy bar than a movie theater, with sofas, armchairs and small tables arranged in intimate groupings.
Unlike the previous Big Picture, you won't need a movie ticket to come in for a drink, and the Sterns expect much of their business to come that way: The lobby, in fact, seats far more people than the theater, and can be reserved for events. Regulars of the Belltown theater will recognize the décor: armchairs with animal prints, ornately carved screens and sidebars, an antique tuba (it belonged to Katie's stepmother's brother, who brought it from England) regally watching over things from a shelf above the bar. Offerings will include not only beer, wine and movie-themed cocktails but a food menu featuring popcorn alongside burgers, Chicago-style hot dogs (Mark, who's from Chicago, wanted his hometown represented), pizza and other casual meals.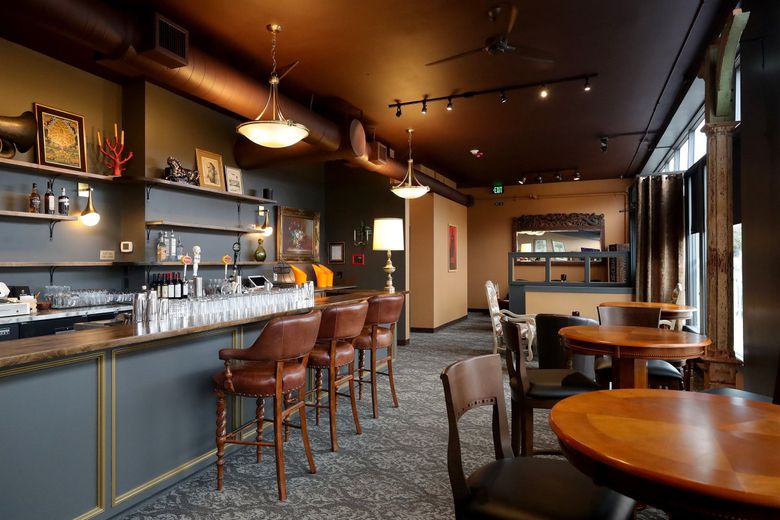 Patrons can eat in the lobby or in the theater, where food and drink can be delivered to their seats. The small theater — 33 seats, including a cozy love seat in the front row — features a 15 1/2-by-7-foot screen and Dolby Digital 7.1 surround sound. And, in a nod to pandemic safety, a UV air filtration system has been installed. The Sterns plan to show first-run films daily, but expect that some of their business will be from patrons renting the entire theater — who can then watch either what's playing or whatever movie they want to bring in.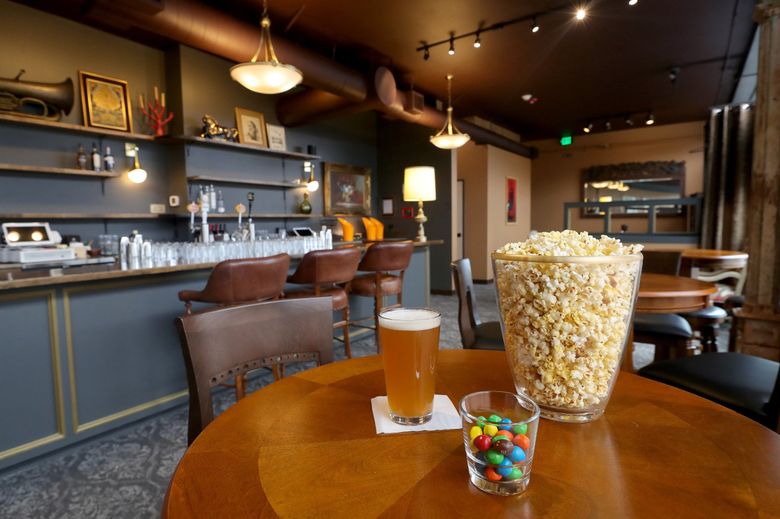 Anyone opening a new movie theater these days is facing a challenge: Movie attendance in 2021 was down 61% from pre-coronavirus 2019, according to Variety (though 2021 was a huge increase over 2020, which saw closed theaters for a large chunk of the year), and a Morning Consult poll taken at the end of 2021 showed only 47% of U.S. adults saying they were comfortable going to movie theaters. Nationally, 12% of theaters that were open pre-pandemic remain closed, most of them permanently.
But Mark, a third-generation movie theater owner (his father and grandfather operated theaters in the Chicago area), thinks the future of cinema will be increasingly at two extremes: very large, spectacle-oriented theaters, and tiny intimate theaters like his own. (One Eastside example of the latter: the corporate-owned iPic in Redmond, which operates seven small screens and serves a variety of food and drink.) He noted that patrons concerned about coronavirus transmission will be more comfortable in a smaller group, and that after two years of a pandemic, "we need to be social." The Big Picture
35 W. Sunset Way, Issaquah; 21 and over; 425-677-7255, thebigpicture.net. Opening with "The Batman" in March; exact date to be determined, check website for updates.

Moira Macdonald: mmacdonald@seattletimes.com; on Twitter: @moiraverse.
Moira Macdonald is the Seattle Times arts critic.
Full Story Link: https://www.seattletimes.com/entertainment/movies/the-big-picture-movie-theater-formerly-in-belltown-reopens-in-issaquah/
You won't encounter any whiny kids or text-happy teens at this subterranean cinema – the first theater in the state of Washington to allow patrons to wash down their movies with a handcrafted cocktail, which can be ordered at the lounge and bar area ahead of showtime, or requested to be delivered to your seat during the feature (the timing is up to you). But that's not the only thing that makes Big Picture great. Though the venue is intimate – seating less than 100 people – its amenities, like stadium seating and rockers, make it seem like a multiplex. Even if it is a single theater located below a steakhouse.
Why It Stands Out: With its 21-plus admission policy, a night at the movies can (finally) be an adults-only affair.
Click to read Men's Journal article (Published 2014)
Seattle has always been a trendsetter of sorts: first with grunge music and the coffeehouse craze, and then with its burgeoning startup scene. Today the Pacific Northwest city continues to set trends with innovative new businesses.